Participating in a JICA Project for Establishing Business Oriented Agricultural Cooperative Model in GeorgiaHiroshi Terunuma, IDACA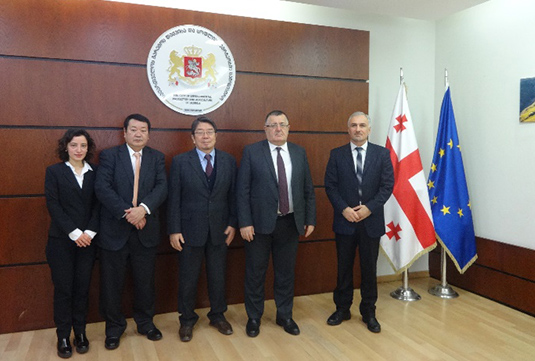 From January 18, 2020 to February 29, 2020, I was dispatched to Georgia as a short-term JICA expert assigned to the Agriculture and Rural Development Agency under the Ministry of Environmental Protection and Agriculture and gave advice on issues related to agricultural cooperatives and promotion policies in the future.
Georgia is a country in the Caucasus region, located in the middle between Western Asia and Eastern Europe. It faces the Black Sea to the west, Russia to the north, and the border between Turkey and Armenia to the south, while the southeastern region faces the border with Azerbaijan. From 1921 to 1991, Georgia was part of the Soviet Union. Its capital and largest city is Tbilisi. Georgia has a land area of 69,700 square kilometers and a population of 3.75 million.

Georgia is an agricultural country with a large rural population. In addition, during the Soviet Union era, Georgia was known as a country producing high-quality agricultural products, and its agricultural products and alcoholic beverages have maintained a brand as healthy and good food among countries in the Commonwealth of Independent States (CIS).
With regard to agricultural cooperatives in Georgia, the Agricultural Cooperative Act was enforced in 2013, and with the support of the government, about 1,400 small agricultural cooperatives have been formed, but the total number of members of those cooperatives is about 10,000. The participation rate of all farmers in the country is only about 1%. During my visit to Georgia, I visited 20 agricultural cooperatives in six regions (Shida Kartli, Samtskhe-Javakheti, Imereti, Racha-Lechkhumi and Kvemo Svaneti, Samegrelo-Zemo Svaneti, and Kakheti).
These agricultural cooperatives can be roughly classified into four types according to the form of participation of the members in the agricultural cooperatives and their method of using agricultural cooperative projects.

(1) Agricultural cooperative consisting of one owner and staff = members of the agricultural cooperative
(2) Agricultural cooperatives that jointly carry out production activities, sell jointly, and distribute profits as salary
(3) Agricultural cooperatives that produce individually, use agricultural cooperatives only for processing, and sell individually
(4) Agricultural cooperatives that produce individually, purchase raw materials, process the raw materials, and sell the processed products

These agricultural cooperatives are small, having 5 to 64 members, and the form of the agricultural cooperatives is a specialized agricultural cooperative according to crop. The agricultural cooperatives I visited were engaged in work involving wine, honey, nuts, fruit processing, apples, dairy (cheese), livestock (beef cattle), and fish farming. Georgia became independent from the former Soviet Union in 1991, and the former kolkhozes (kolkhoz was a form of collective farm in the Soviet Union) were dismantled. Georgian farmers have a strong allergy to agricultural cooperatives due to their bitter experiences during the kolkhoz era. Therefore, the promotion of agricultural cooperatives has only just begun and has been slow to progress.
The understanding of the people concerned regarding democratic agricultural cooperatives based on the cooperative principle is insufficient, and amid various misunderstandings and trial and error, there is a strong desire among those people to learn from the experience of Japanese agricultural cooperatives.
It is thus expected that cooperation with Japan will continue in the future.
* ENPARD: European Neighborhood Program for Agriculture and Rural Development