2022.02.26
Conclusion of Partnership Agreement with the International Grains Council (IGC)
The Institute for the Development of Agricultural Cooperation in Asia (IDACA) signed a partnership agreement with the International Grains Council (IGC; headquartered in London) on January 26, 2022.
The IGC is an international governmental organization that promotes international cooperation in grain trade and provides a forum for the exchange of information. This agreement is expected to bring benefits such as the dispatch of lecturers from the IGC to training programs conducted by IDACA.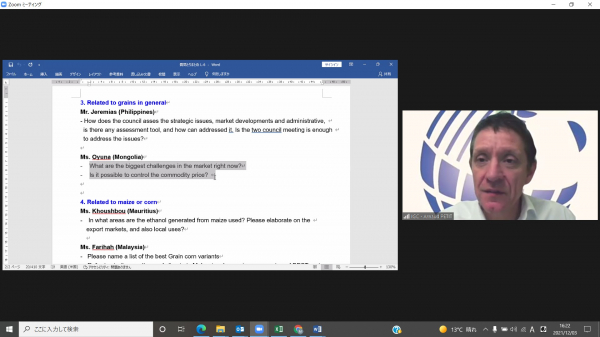 2021.12.03
Mr. Arnaud Petit, Executive Director of the International Grains Council, to give a lecture for the first time as an ICA training program
We were honored to have Mr. Arnaud Petit, Executive Director of the International Grains Council, to give a lecture for the first time as an ICA training program.
In this lecture, the video sent by the lecturer was distributed to the participants in advance for them to watch, and then the lecturer and all participants were connected online for a Q&A session for about two hours starting at 3:00 p.m. on December 3.
It was a meaningful lecture for the participants as they were able to get an overview of the IGC's organization, as well as information from a global perspective on the production status and market trends of grains conducts, also the production and market situation of the commodities that the IGC analyzes and researches, mainly rice, maize, wheat, barley, oilseeds, soybeans, pulses, etc.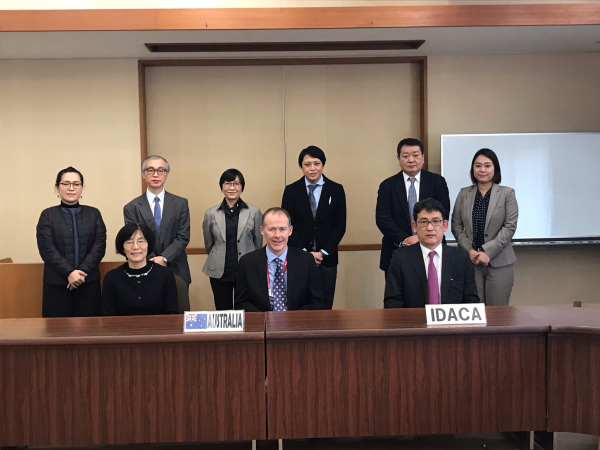 2021.11.18
Agricultural officers from the Australian Embassy visited IDACA
On November 18, 2021, two agricultural officers from the Australian Embassy came to IDACA.
After observation the IDACA building, explaining the background of the establishment of IDACA and the status of its activities, we exchanged opinions on agricultural issues between Japan and developing countries. We were able to have a very meaningful time.
2021.10.05
The Climakers Asia Digital Workshop was held.
The Climakers Asia Digital Workshop on "Tackling Climate Change by Farmer Groups in Asia" was successfully held on 5 October for a wide audience of agricultural and food professionals.
Presenters and participants exchanged views on good practices from 9 Asian countries that are making various efforts to tackle climate change.Toru Nakaya, President of IDACA, gave the following opening remarks.
Good morning and good afternoon, everyone, I am Toru Nakaya, President of IDACA, at the same time, President of JA Zenchu or the Central Union of Agricultural Cooperatives in Japan.
It is my great pleasure and honor to say a few words before you, on behalf of IDACA, at the opening ceremony of this workshop.
At the outset of my opening remarks, I would like to express my sincere respect and gratitude to Dr. De Jager President of the World Farmers Organisation (WFO), for giving IDACA an opportunity to organize this workshop.
It is my recognition that WFO has already been successful to extend its policy recommendations in various international fora, based on their activities to collect data from farmers' organizations around the world, with respect to adaptation to and mitigation of the effect of the climate change.
It is very timely to hold this workshop in Asia, where natural disasters are very common. I hope this workshop will provide you with an opportunity to deepen the discussion not only among farmers but also among other stakeholders.
IDACA was established in 1963 with the strong leadership of Mr. Yasushi Hasumi, the first president of JA ZENCHU, to enhance the potential of Asian agriculture collectively. It has been about 60 years since then.
So far, we have accepted more than 6,500 cooperative leaders from 130 countries around the world, mainly in Asia. We have provided them, the participants, with opportunities to learn how to organize and manage Japanese agricultural cooperatives.
In addition to the training activities, we have contributed for fostering farmers' organizations and promoting agricultural cooperative movement in many parts of the world through research and development cooperation projects.
In the meantime, we have been working with various bodies such as the Ministry of Agriculture, Forestry and Fisheries of the Government of Japan, Japan International Cooperation Agency, International Cooperative Agency, and the ASEAN Secretariat. It is really a matter of great honor for us at IDACA that we were able to hold the workshop in collaboration with WFO for the first time.
Although it is a limited time of two hours, I hope that it will be meaningful to all of you. Thank you so much for your attention.
2021.09.28
The Climakers Aasia Digital Workshop, October 5, 2021
This is to let you know that we are pleased to announce the upcoming workshop, which aims to share the farmers' initiatives that try to mitigate and adopt climate change in Asia region. The program is divided into two parts and in the first part, we will hear the best practices from farmer representatives in five Asian countries. Following the presentations, we will have a panel discussion in the latter half.
The workshop will be held on Tuesday 5th October from 3pm Japan-time. More details can be found blow, including details for registering.
If you are interested to join, please sign up via the link to receive the access details.
■ About the event
Title: The Climakers Asia Digital Workshop
"Farmers' Solutions to Climate Crisis: Asian Stories from the Field"
Date: Tuesday, 5th October, 2021
Time: 3:00PM – 5:00PM (JST) / 8:00AM – 10:00AM (CEST)
* You can enter the room 30minutes before the start time
Method: ZOOM online meeting
*Link for the meeting will be announced via the confirmation e-mail automatically sent to you after your registration.
Fee: Free of charge
Language: English
■ Registration
Please access below the link for registration.
Your application will be completed upon receiving an automatic reply "confirmation e-mail" sent to your registered e-mail address.
Register at:https://bit.ly/TheClimakersAsia
■ Time table (JST)
2:30−3:00 Reception
3:00−3:15 Opening Remarks
3:15−4:10 Presentation of Best Practices in Asia
4:10−4:50 Panel Discussion
4:50−5:00 Closing Remarks
If you have any questions, please feel free to contact us at the following email address.
E-mail address: climakers.asia.info@gmail.com